If you've been reading this blog for any length of time you will have noticed a couple of underlying themes; one of which is the need for me to make some money. At the rate I'm spending it, I need to replace it soon!!!
One way of making money on-line is to sign up for affiliate programmes. By this I mean that you join a programme which gives you the tools and a dedicated link to promote products supplied or provided by another company or person. One example of this is of course
Lynette Chandler
and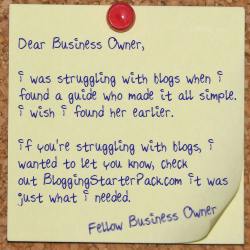 her
Blogging Starter Pack
; which is something I have subscribed to myself and am certain that it will provide me with very useful information. I just have to find the time to implement the steps she recommends so that I can start up my very own Wordpress affiliate blog.
Another affiliate programme that I signed up for is Alice Seba'a
Internet Marketing Sweetie Course
.

In this Alice teaches how to kill your competitors with Kindness! It's actually a great programme, I should know I have signed up for this and another couple of her e-courses. It's no wonder I don't have much time to spend on the house, is it?
My
Tesco
link is another example of affiliate marketing and so is my
Amazon link
, ie Polly's Peri-wrinkled Pages or Amazon Shop. Unfortunately, neither of these have been too successful and I am still waiting for my first cheque, however this isn't going to happen in either case until I have passed the £10.00/€10.00 mark! Still, it will happen. I am convinced as to the validity of this type of passive marketing/income and know several people for whom this has worked very well.
Another way of generating revenue is to submit articles for publication. This can prove quite lucrative in more ways than one; as your name becomes associated with articles published in a variety of places it lends more credibility to your name. In turn this should indicate that you are a reliable and trustworthy source and might even lead to increased sales in whichever area you are concentrating in.
My problem has always been what to write articles about. Sure I make
Handmade Greeting Cards and Wedding Stationary
; but who am I to profess to be an expert. Self confidence is an issue here! This morning I slept in; I woke up properly just before 10am and oh, it was so nice unlike last week when I wasn't feeling very well at all. The two boys are both unwell this week, so there were no school runs to get involved with and I could just take it nice and easy, just like this young lady!
photos courtesy of
©D.M.Williams Photography
With LB snoozing in my nice warm bed I sat down at the PC with some freshly brewed leaf tea and hot buttered toast with homemade raspberry jam. Heaven! Now all that was missing was the morning news and correspondence; this of course was the
IBW Forum
; which is never dull.
Six hours later, I have seven unopened letters behind me and a parcel from America which cost me €20.20 in customs charges. My tea is long drunk and the crumbs on the plate are calling out for company; it has indeed been an interesting morning largely due to a lady called Susan who introduced herself and her new
website
to the forum. So far I have contributed two '
articles
' to the forum and now have a clear idea of where my
niche
lies; so thank you Susan!
In case anyone is wondering just what is so exciting about this I will briefly explain myself. Having breast fed two wonderful babies, who are now big strong boys who drive me insane from time to time I developed a keen interest in the topic of breastfeeding. As a student I was drawn towards Midwifery but decided against it in favour of Operating Theatres instead; in latter years I was privileged to attend many births - by Caesarian Section instead!
Unfortunately, since my return to Ireland my interest in helping other new mum's succeed at what should be easy; but often isn't has been thwarted by my lack of Midwifery qualifications. At a time when I needed support myself I attended
La Leche League
meetings in the physio department at the local hospital. Eventually my schedule became so gruelling that they had to stop!
Happily; despite my lack of physical activity, today has not been wasted, in fact it has been very productive indeed!
A cheery-bye for now!
Polly Pierce
photos courtesy of
©D.M.Williams Photography