As a result of our decision to skip up and down a rather large mountain in Co Mayo, it was decided that something relatively quick and easy, with a high protein/calorie content would be served up for dinner last Saturday night. After all, those energy depleted mountaineers would need something good to fill them up.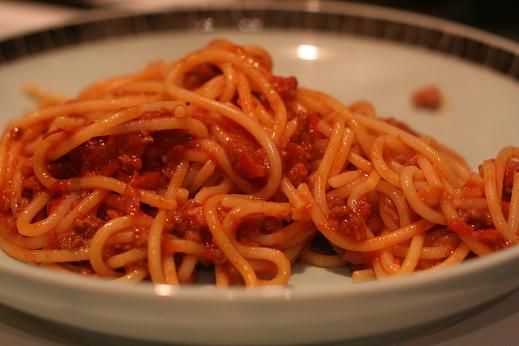 The Scouts were running around on the back lawn of The Atlantic Adventure Centre like headless chickens, chasing the ball as though they'd never mounted Croagh Patrick while the adults of the party complained about their aching limbs. I envy the boys enthusiasm for life and wish that I possessed even a tenth of their energy!
As we had travelled by train, we'd travelled relatively lightly. Our arrival in Westport heralded scouts, equipment, leaders, but thankfully no tents and was well past closing time at the local shops. Our Leader had wisely chosen to bring a few essential supplies in her rucsac.
Saturday night menu consisted of nearly 1kg of minced/ground beef, 1 kg spaghetti (dry) and two jars of
Dolmio's finest Taste of Sorrento
ragout sauce, complete with cherry tomatoes, basil and pesto. For sixteen persons this provided a very acceptable first course, which was followed by a staple of oven chips and chicken goujons.
Personally I stuck to the spaghetti, which despite having been produced from a jar was very acceptable. In fact, to my surprise, it was quite delectable.
Admittedly, I did simmer the made up beef ragout on the stove for rather longer than the recommended 20 minutes, but I don't imagine that this made a huge difference. The end result was sixteen empty plates...
This week I did look up the price of these Dolmio jars and was horrified to discover that my suspicions regarding thecost were correct. At an exhortitent €2.80 per jar, I could have fed a biblical five thousand for the same amount of money!

Take a 1 kg net of Tesco's cooking onions costing a mere €1.79 and I'd probably use three of them + two 400g cans of Tesco Value Chopped Tomatoes @ €0.90 + a pinch of mixed herbs where a whole 18g pot of Tesco Value Mixed Herbs costs
32c (cost impossible to assess due to tiny quantities used)
, Schwartz Bay Leaves Refill 6g
€1.35
/20ish & I'd probably use 2, plus a teaspoon of Tesco Olive Oil costing €7.35/litre.
As the meat and the spagetti part of the above dish is a common factor, I am not going to include them in this cost comparison. However 2 x €2.80 = €5.60 - €1.34 = €4.26 difference in the cost of Polly's Spagetti Bolognaise and Dolmio's Spagetti Bolognaise with a taste of Sorrento!
If cooked correctly this dish is rich enough to be flavoursome and filling
without the addition of expensive ingredients such as parmesan cheese and pinenuts. Made my way it does take a little longer, regarding the preparation of the ingredients, but in terms of convenience I'd say that there is very little to choose from between the two.
Personally I'd always prefer to carry a few fresh vegetables and/or cans to glass jars purely for safety reasons and a plastic bag with a few herbs makes very little difference to anything bar the flavour of the resulting meal. I honestly believe that it is a case of swings and roundabouts in relation to convenience foods and flavour, but this example does just go to prove that the cost of convenience is indeed high!

Anyway, regardless of its origins this is one of my favourite meals and I'm now beginning to feel a little hungry, so at the late time of *@!€* I shall go and dress myself, make some dinner for us all and then head off to Scouts!
Ciao!