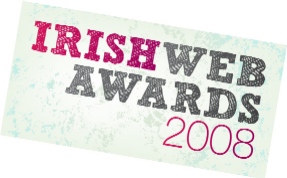 Damien Mulley, whose
blog
I have bookmarked is presenting the
Irish Web Awards
this evening at the Radisson SAS Royal Dublin Hotel and fair play to him! There's been a lot of work involved in this event and he's the man to do it...
In particular I'd like to wish Good Luck to
Deborah Hadley
and
Darina Loakman
; both members of IBW; both of whom has been nominated and shortlisted to the top five in a total of three categories. That is some achievement ladies; and I'm proud of you!
Elsewhere in Damien's blog I discovered this rather cynical take by
Jonathan
on the present state of the World Wide Economy. As commentator's have already mentioned it is succinct and to the point...
For those of you with delicate sensibilities; I apologise, however this is what the dog's on the street reckon and for once it seems that they agree with the experts...
Polly Pierce
Vinca Cards - Handmade Wedding Stationary